After these things I (John) looked, and behold, a door standing open in heaven. Revelation 4:1 NASB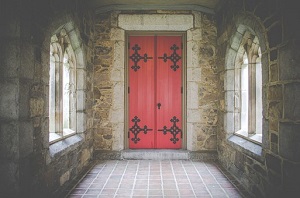 The doorman stood in my way.
He would not allow any more people in. Some tried to rush him, but his actions held them back. He was hired for this job and knew how many people the elevator could carry.
Waiting for the next ride up gave me a few moments to reflect on the number of times God had placed a doorstop before me. I had to learn I could not force my way through a crack in the door. Sometimes, I had to let go of burdens I was carrying. Perhaps it was a toxic relationship I needed to tell goodbye or a habitual sin the Holy Spirit kept talking to me about.
God has used many methods to place a doorstop in my way. I have learned the Word of God provides many dos and don'ts, especially in the book of Proverbs. The words of Jesus in the gospels have provided wisdom. The writings of Paul in his letters to believers have produced warnings. The Holy Spirit has nudged me to stop as He brings a no-go zone to my attention. Wise counsel has alerted me to facts I was not aware of. Close friends have reminded me of what happened the last time I tried to force a door open.
Learning to respect God's doorstops in my life means acknowledging the sovereignty of God—sometimes painful, but it has grown my faith. A doorstop, like an elevator operator, has purpose. Waiting in patience for the door before us to open can reap huge benefits. Jesus will let us know when it is a safe time to enter through His open door, as He told the apostle John.
When Father God opens a door, He will never cause us to compromise or contradict His Word. We can trust Him as we respond to His call to come, to go through, or to come up higher.
Ask God for the faith to walk through the open doors He provides for you.
(Photo courtesy of pixabay.)
(For more devotions, visit Christian Devotions.)
---
---