So God led the people by the roundabout way of the wilderness toward the Red Sea. The Israelites went up out of the land of Egypt prepared for battle. Exodus 13:18 NRSV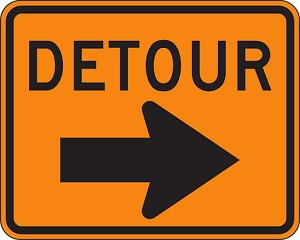 I live on a usually slow and quiet street.
Cars speed by, unaware my neighborhood exists—until nearby construction work or emergencies occur. Construction crews or EMS workers detour vehicles through our neighborhood. The detour often requires more travel time because my road is less traveled, making navigating it a little more complicated.
Like the cars driving through my neighborhood, the Israelites required a detour. God gave Moses directions to guide them through the wilderness. The alternative route seemed wrong; the more direct way would only have taken a few days.
Their long journey resulted in difficulties and hardships, leading to a generation that never saw the Promised Land. Along the way, some lost their faith and others their loved ones. The path with minimal resistance and the shortest distance would have required the least physical stamina, but the perseverance of a long journey served them best spiritually.
God is not concerned about quickness or ease. He wants us to arrive at our destination safely. He knows the shortest route will require less physically, but will lack in spiritual growth.
Spiritual maturity is essential to our faith and keeps us from reverting to our old self and operating in our old ways. This journey teaches us to depend upon God for mental, emotional, physical, and spiritual well-being.
The longer route builds endurance and teaches us to persevere through the subsequent obstacles we will face. It teaches us to rely only on our Father's directions, no matter what we see in front of us. The unfamiliarity requires us to focus solely on Him. The change in direction, as difficult as it may be, leads us to where He wants us.
If God is detouring your current circumstance, follow the new directions.
(Photo courtesy of pixabay.)
(For more devotions, visit Christian Devotions.)
---
---