May the God of hope fill you with all joy and peace as you trust in Him, so that you may overflow with hope by the power of the Holy Spirit. Romans 15:13 NIV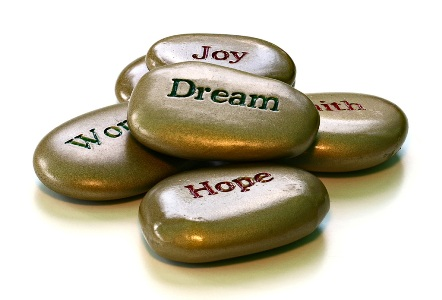 "That's it! I GIVE UP! There's no hope. I will never find a job."
Interview after interview after interview … same story. "We'll call you." Stupid phone hasn't rung once. "I'm gettin' drunk," Sal screamed in the lobby and slammed the door behind him.
"Not so fast, fella!"
"What's it to you, bud?"
"My treat at Starbucks. What's your name?"
God's holding Sal in the palm of His hand. He hears his misery, his frustration, his anger, his lack of hope. God also hears our pain. Each and every one. Paul says when He comes to us and we choose to trust Him, through the power of the Holy Spirit, we will be filled with joy, peace and hope.
The word is "choose." We choose hope when we say "yes" to Jesus. This hope is not hollow but full of promise; not of the earthly human flesh, but of the eternal glory of Heaven. With the vision of the glory of God—of His incredible love for us, we can choose not to be discouraged by the rocks thrown in our path. We can be filled with His joy and rest in His peace that God is in control.
When my husband's diagnosis was stage-four cancer, we chose God. He was there guiding the surgeons, sitting in Starbucks with our son and me. He was giving us strength for the days ahead knowing that the outcome was in His hands. We could all bathe in His peace and presence.
God will be by your side too. You just have to choose Him through Jesus Christ. Where do you need Him most today? God knows where it is. Choose to trust Him and rejoice in that sense of peace which really does pass all our earthly understanding. He promises to speak to you through His Word, your devotional readings, and your prayers to Him. I can say this because I chose Jesus, and He has never failed me. All glory be unto Him.
(Photo courtesy of morguefile and DarrenHester.)
(For more devotions, visit us at www.christiandevotions.us.)
---
---