Do not be anxious about anything, but in every situation, by prayer and petition, with thanksgiving, present your requests to God. Philippians 4:6 NIV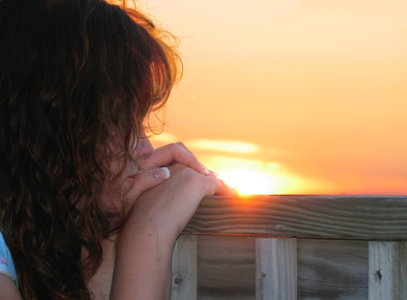 "Why worry when we can pray?"
Those were the last words Marian Woosley said to every visitor. Although she spent her final years in a nursing home, she never lost her sparkle. Regardless of the day's difficulties or the topic discussed, she always smiled as she reminded us of worry's dead end and prayer's promises.
She suffered numerous health issues, lost her husband twenty years before, and could no longer remain home. Yet she radiated peace and joy. The reflection of Jesus' love in her life was like a magnet that drew all ages to her. She loved playing her keyboard while others sang along. The seventh and eighth-grade girls' Bible study class I teach visited her occasionally. One Christmas we gave her a large-print hymn book, as the small print grew increasingly difficult for her to read. She gave us far more by loving us and showing us how to live well regardless of our circumstances.
Mrs. Woosley's friends and family repeated her favorite words to one another as we celebrated her ninety-plus years of life and entry into the presence of her Lord. A choir member recalled her asking him to sing "The Rainbow Song, Chuck Milhuff's The Brush." She loved its message and wanted others to hear it too. So he sang that when we give the paintbrush of our lives to Jesus, He takes our messes, dips them in a rainbow, and signs our price has been paid. Mrs. Woosley gave her paintbrush to Jesus a long time ago and took everything to Him in prayer.
The pastor's message of comfort revolved around Mrs. Woosley's philosophy of prayer over worry. A grandson concluded the service with Psalm 121, their family's psalm before any journey. The impact of her legacy of faith grew more evident through that powerful farewell prayer by those who knew her best and loved her most.
What burdens do you carry today? Follow Mrs. Woosley's example: prayer over worry.
(Photo courtesy of morguefile and anitapeppers.)
(For more devotions, visit us at www.christiandevotions.us.)
---
---