My fruit is better than gold, even pure gold, and my yield better than choicest silver. Proverbs 8:19 NASB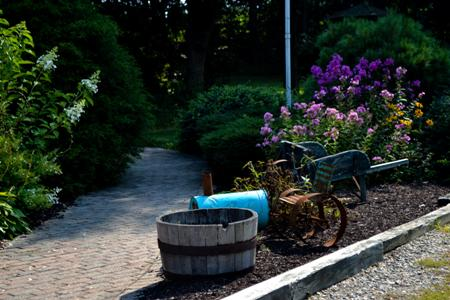 I had often wanted to have a silver mound plant in my garden. One year I finally took the opportunity to introduce a couple of tiny shoots into my perennial border. They dug down and grew up into a truly dramatic dome of silvery green.
My four-year-old grandson Cyrus and I were exploring the serpentine grass path that divided our large backyard garden. As we paused at the lovely silver mound that brought me such delight, Cyrus spotted a tiny toad hopping into the delicate fronds. He dove after it and fell into the center of the plant, leaving a deep depression.
My heart sank. My silver mound was ruined. I squelched my disappointment as I helped my grandson up. He was unharmed by his topple. I brushed him off, and we headed back into the house for dinner.
The following morning found me in the garden again with a steaming mug of coffee in hand. I wanted to examine the damage to my silver mound alone. The early rays of the rising sun revealed a surprise. I gazed at my depressed mound and was astonished to see the imprint of Cyrus was in a perfect heart shape. My silver mound had turned to gold.
Many times we encounter difficulties and setbacks. We have a hard time making sense out of these trials. But God promises if we will place them in His hands and trust Him for the outcome, we will discover He is able to bring unexpected and glorious results.
What depressing mound are you staring at today? Wait until the Son's rays shine on it. You may be delighted to see what He will do.
(Photo courtesy of morguefile and MaryRN.)
(For more devotions, visit us at www.christiandevotions.us.)
---
---