Are not two sparrows sold for a penny? Yet not one of them will fall to the ground outside your Father?s care. So don?t be afraid; you are worth more than many sparrows. Matthew 10:29, 31 NIV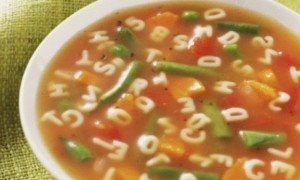 There's more value in alphabet soup than just nutrition.
I watched the letters swirl around my spoon in the soup. The tip of my spoon shoved the letters into "soup words." Words like pet and bad were easy to put together while longer words like later and goodbye took a little more effort. As I played with my soup, I thought about each individual letter of the alphabet. On its own, each letter is seemingly insignificant. But string enough letters together and you have words, sentences, and ultimately communication. Just think how much of daily life would be greatly altered by the omission of only one letter. Each letter represents incredible value and serves a valuable purpose.
Every person holds immense individual value. Sure, the accumulated strength of a group can accomplish much more than one person. But we have each been "fearfully and wonderfully made" by God. Though we all have off-days when we feel fairly worthless, God views each person as uniquely valuable for the purpose He has for us to fulfill.
What makes something valuable? It could be its age, as in a priceless antique, or its cost. Sometimes the value is intrinsic, as in a love letter or a stick-figure drawing from your child. Perhaps it lies in its future appreciation, as in an investment. It could even be all of these combined.
The best news of all is that all these qualities apply to each individual person. From before time began, God gave His Son to reconcile us back to Himself. The cost alone of Christ's sacrificial death speaks volumes of the value God places on us. Nothing can separate us from God's love. He promises to strengthen us and never leave us. If nothing happens to a pair of sparrows without God taking immediate notice, rest assured we are always on His mind. Putting all this together, it is easy to see the considerable time, cost, and love that our Creator invests in us as confirmation of our value.
In the daily swirl of life, it may be easy to feel like a lone, insignificant letter. Don't lose sight of your significance. Remember the incredible value God places on us individually. The price He paid for you is immeasurable.
---
---