Your fruitfulness comes from me. Hosea 14:8b NIV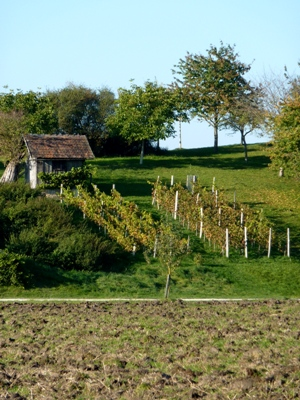 Late September marks the beginning of garden cleanup. The lilies, astilbe, roses, rhodendendron, forsythia, and daisies have bloomed lavishly and dried up. Their remains, the brown leaves and withered stems, dot my garden, and I go to work pulling, clipping, trimming, and tossing. Rooting out the rotted plants prepares the garden for a fresh start in the spring. With the old growth eliminated, the new flowers will be able to surge and multiply next April. I can't wait to see the colors, textures, and lushness of next year's garden.
Rooting out sin in our lives and laying it at the foot of the cross cleans up the refuse that chokes us spiritually, gives us a fresh start, and prepares us to be a well-watered garden. Jesus, the Master Gardener, loves to trim, prune, and cultivate our life gardens and turn the dead and fruitless into flourishing plants that capture the attention of the world where we bloom.
When we pull our sin before God, He promises to forgive our waywardness, love us, turn His anger away, heal our broken places, and give us the fresh start of a garden in spring. Hosea 14 is a gardener's wish list. God promises to be like dew to our life gardens, and the result will be that we will burst into bloom like a crocus in the spring, put down deep oak tree roots, become a forest of oaks, and become splendid—like a giant sequoia with fragrance like a grove of cedars.
Oh that our blooms, our roots, and our fragrance would be splendid so that everyone who walks, works, and lives near us will be blessed.
Ask the Master Gardener to prune and groom your mangled garden and change the next season of your life from a wish list into reality.
(Photo courtesy of morguefile and Seamann.)
(For more devotions, visit us at www.christiandevotions.us. )
---
---