But Jesus said to him, ?No one, having put his hand to the plow, and looking back, is fit for the kingdom of God.? Luke 9:62 NKJV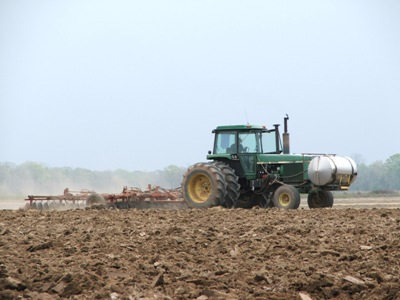 Rarely do I mow my lawn without being reminded of a hard lesson I learned years ago. I was hired by a local farmer to plow his field because I knew how to drive a tractor. I had driven a tractor like his, but never to work a field.
The farmer came to check my work when I was less than halfway finished plowing his field. He nearly blew a gasket. My rows undulated across the ground instead of being straight lines. I had tried hard to make them straight, but I could not make it happen. I felt beat up and embarrassed. When I plowed my undulated rows, the work I had done was useless. Part of the soil did not get turned; part was turned more than once. This created uneven ground and soil not ready for the next step of preparation.
Once the man calmed down, he told me the secret to keeping the lines straight: focus on an object on the opposite side of the field. Don't take your eyes off of it, and drive straight for it. I was amazed how it worked and how easy it was.
I still use that technique as I mow my lawn. When I am aware of what I am doing, I remember that lesson from years ago. I am also reminded of Jesus' word to His disciples that no one who puts his hand to the plow and looks back is worthy of the kingdom. Our walk with Christ is much like plowing our field. Without keeping our eyes fixed on Jesus and walking straight for Him, our walk will begin to swing left and right—not breaking up the fallow ground in our hearts, and not accomplishing the work He plans for us. Sometimes we can become so far off course that it's hard to get back in line.
Rather than beating yourself up over it, thank Jesus for His mercy, grace, and forgiveness. Then use it all as a reminder to keep your eyes fixed on Him.
(Photo courtesy of morguefile and ronnieb.)
(For more devotions, visit us at www.christiandevotions.us.)
---
---