And she brought forth her firstborn son, and wrapped him in swaddling clothes, and laid him in a manger; because there was no room for them in the inn. Luke 2:7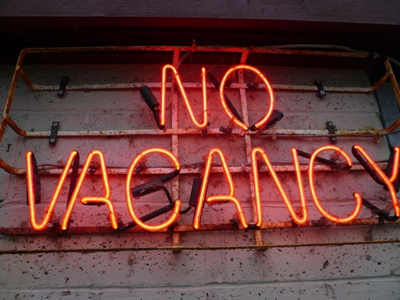 When I was a youngster, my family went to Florida for vacation every year. The uniqueness of our vacations, when compared to today's trips, is my parents never made reservations. When we'd arrive at our destination, sometimes as evening approached, my parents searched for a place to stay. All motels had something you don't often see today: neon signs at their entrance that flashed "Vacancy" or "No Vacancy."
Mother always wanted to stay at a motel on the side of the road adjacent to the beach. Which side of the road we stayed on didn't bother Daddy. He got cranky when Mother nixed places to stay and asked him to continue the search for a room.
By then, both my parents were tired, upset, and wilted from eight hours of summer heat in a car without air conditioning. We had arrived at our destination, but still could not end our traveling to gain rest.
When Joseph and Mary arrived in Bethlehem, the equivalent of "No Vacancy" signs greeted them. They were weary and drooped from the heat. And to make matters worse, Mary was very pregnant and perhaps ready for her son to be born so she could return to her normal lifestyle.
The later days of pregnancy are uncomfortable in the best of circumstances, much less those that Mary endured on their trip. She and Joseph probably craved a drink of cool water and someplace to stretch out and relax. But they found no vacant room.
One innkeeper showed compassion for the couple. He had a stable for his animals and offered it to Joseph and Mary, so they could rest and relax. And there the Holy Child would be born that night.
That innkeeper had probably seen travelers all day who wanted a room. He had filled all the lodging spaces he had. He had a full house that would gain him monetary means. He didn't need to bother with Joseph and Mary. But he did, and the culmination of a miracle happened that night with the birth of Jesus in the innkeeper's stable.
How many times has Jesus come to your heart's door? Do you always answer His knock? Or is your day already full of other things calling for your attention? We could very well miss a miracle if we don't find room for Jesus.
(Photo courtesy of morguefile and barterville.)
(For more devotions, visit us at www.christiandevotions.us.)
---
---