Then he said to them, ?Watch out! Be on your guard against all kinds of greed; life does not consist in an abundance of possessions.? Luke 12:15 NIV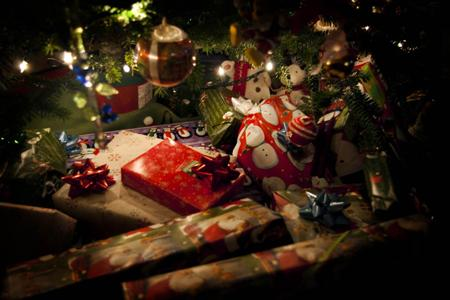 The signs of the season begin beckoning in October: "pre-holiday sale," "30% off on flat screen TVs," "buy one toy, get another half off." By early November, the Christmas shopping season is in full throttle. I confess I can get caught up in the commercialism. I love buying gifts for my family and friends while strolling glittery aisles and humming Christmas tunes. But along the way, I'll try on a cute pair of shoes or check out a cool gadget. By the end of December, I've bought myself a bunch of new stuff I really didn't need.
The lure of "more" swirls around us all year, but it intensifies during the Christmas season. Jesus spoke often about keeping our focus on matters of eternal value rather than on temporary things. It's ironic we seem to ignore that command more easily during the season in which we celebrate His birth.

How often does maintaining and acquiring possessions tie us down to a job that's slowly eating away at the soul, or to a work schedule that encroaches on our time with God and our loved ones? What deeply meaningful service could we give to God's kingdom if we had fewer monetary obligations? And what beautiful dreams might we be able to pursue?
Time for a change in the coming new year. Lord, help us to downsize our lifestyles so You can supersize our lives.
(Photo courtesy of morguefile and Earl53.)
(For more devotions, visit us at www.christiandevotions.us.)
---
---