And the Word became flesh and dwelt among us, and we beheld His glory, the glory as of the only begotten of the Father, full of grace and truth. John 1:14 NKJV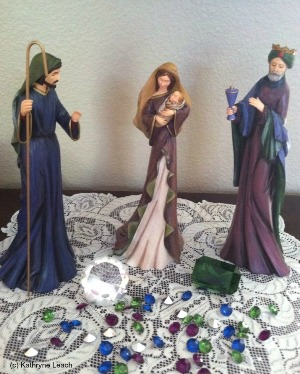 "God became flesh so that I could become spirit."
The mystery of Christmas was reduced to the nine simple yet profound words of my pastor, Tim Franklin, Ph.D. Raised Catholic, I've heard many Christmas incarnation sermons, but Pastor Tim's nine simple words breathed new life on the familiar message.
The Christmas story is not the story of a baby being born but the tale of a King leaving His throne in heaven and lowering Himself to "take on flesh" and become human. All for the sole purpose of dying in that human body. To be born just to die? Yes, to fulfill a divine exchange because divine blood had to be shed to satisfy the covenant Father God had previously established years before with another man named Abraham.
Jesus' birth was an act of humility. The Creator of all things came to earth in the form of a tender, defenseless baby—a vulnerable and fully dependent infant identical to all other babies born before and since. Except for one major difference.
This baby did not cease being God. He was not God one minute, then a man, and then God again after death. He mysteriously remained God in human form. While all world religions acknowledge Jesus, only Christians believe He literally became a baby yet did not cease being God. The gold, frankincense, and myrrh the three wise men gifted reflected their recognition of His royalty. Only a God/King could provoke holy men to show honor this way.
This is the mystery of Christmas: Jesus, the divine, coming to earth. Emmanuel. God with us. God walking among us so we could accept Him and be born into His spirit world. A divine exchange. God became flesh so that I could become spirit. Nine simple words that forever altered human destiny.
This holiday season a vital question remains: Do you believe Jesus—the one born as a baby and who later died on a cross—was God? Salvation is that simple. Only "religion" complicates it. But as many as received Him, to them He gave the right to become children of God, to those who believe in His name (John 1:12).
(Photo courtesy of author.)
(For more devotions, visit us at www.christiandevotions.us.)
---
---