Glory to God in the highest heaven, and on earth peace to those on whom his favor rests. Luke 2:14 NIV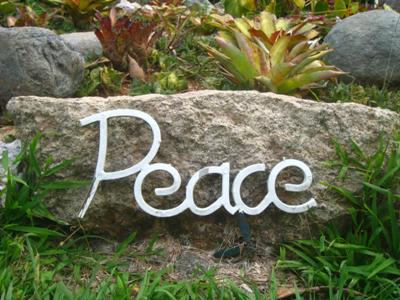 Does it surprise you that the gift the angels highlighted was peace, not love? We talk a lot about the love of God at Christmas and rightly so. Jesus' birth was a profound demonstration of God's eternal, unconditional love for humanity. But the gift of God the angels proclaimed to the shepherds was peace.
Most people in Jesus' day misunderstood God's gift of peace. The Jewish zealots wanted political peace—freedom from Roman rule. Many who followed Jesus wanted physical peace—healing of ailments, deliverance from demons, or the simple pleasure of a full stomach. Others wanted Jesus to solve family squabbles or remedy cultural inequalities.
We make the same mistake the people of Jesus' day made. We assume God's peace means the end of conflict with whatever or whoever is causing difficulty in our lives. We pray, "God, if You'll just give me that job, then life will be peaceful." Or we say, "God, if You'll just set that person straight, then my life will be peaceful."
But that's not what the angels were talking about in Luke 2. They were proclaiming the peace with God that Jesus' death and resurrection would accomplish. God loved us so much He wanted to restore the fellowship that had existed in the Garden of Eden. God knew not a single human being could ever restore that fellowship by following the standards set down in the Mosaic Law. No matter how hard anyone tried, no one would be able to gain access to God's presence by fulfilling His entrance requirements.
Jesus' birth, death, and resurrection made fellowship possible again. So the peace God promises us is permanent access to His presence. Jesus paid the penalty for our sin so we can be clothed in His righteousness and enter God's presence. That peace so excited God that He sent a host of angels to sing about it to a group of lowly shepherds.
What are you excited about this Christmas? Does permanent access to the presence of God make you want to sing? Give glory to God by sharing that song with someone soon.
(Photo courtesy of Photo courtesy of morguefile and Maryhere.)
(For more devotions, visit us at www.christiandevotions.us.)
---
---