Then they cried to the LORD in their trouble, and he delivered them from their distress. Psalm 107:19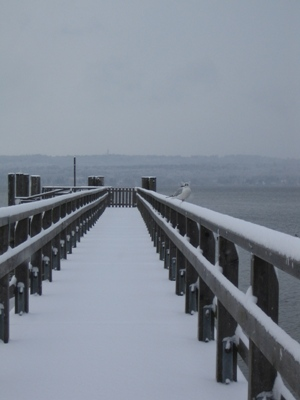 As the calendar rolled toward the last week of December,1989, meteorologists up and down the East Coast were not focused on the holidays. They were watching a record-breaking Arctic high=pressure ridge over the Central Plains that was sending temperatures across the United States plummeting. On the morning of December 22nd, the temperature in Northern Nebraska was minus 36 degrees.

Out on the periphery of the continent, especially on the East Coast, temperatures were also well below normal. And there was something else: off the coast of Savannah, Georgia, a low was forming. As it slowly spun out in the Atlantic, it began to send ocean moisture slamming into those drastic cold temperatures. And so it was that as Christmas 1989 approached, snow began to fall from Cape Hatteras to Melbourne, Florida. Places that had never seen snow were suddenly watching in wonder as a White Christmas materialized out of nowhere.

One of those places was Ocala, Florida. And just outside Ocala was the Marion Correctional Institution, a maximum-security prison in the Florida Department of Corrections where inmate #249293 watched in sheer joy as snow began to fall. That was me: Inmate #249293.
Christmas was never a good time in prison. Not that there were any good times, but Christmas was more stressful than most. And to a North Carolina boy stuck in a Florida prison, it was even more stressful. Let me explain. Florida has two seasons. There is the very hot green leaf season, which is roughly March to October, and the less hot, brown leaf season, which would be during the remaining winter months. In other words, it was nothing like a North Carolina boy had grown up experiencing.

I had been fighting the depression the holidays in prison inevitably bring, and finally asked Jesus for help. Not just for me, but for my family. I didn't want them to pick up on my lowered spirits and worry about me any more than they already were. "Jesus," I prayed, "please help me find just a little Christmas Spirit."

And so it was that the next morning I stood in the prison yard watching in sheer wonder as snow, real snow, fell on central Florida … and my up-turned face. And my heart burst with joy and gratitude, and yes, even Christmas Spirit.

As I looked around, even the chain-link fences that bordered my world, with their crowns of deadly barbed serpentine wire, looked beautiful as they were slowly covered in ice and snow. It would not be the last time He would be there to hold my hand when the going got tough. But I had to reach out. And every time I did, He answered.

Do you need help this Christmas season? Reach out to the One who could turn a Florida prison into a Winter Wonderland and give a White Christmas to the Sunshine State.
(Photo courtesy of morguefile and biberta.)
(For more devotions, visit us at www.christiandevotions.us.)
---
---