Come, let us sing for joy to the LORD; let us shout aloud to the Rock of our salvation. Psalm 95:1 NIV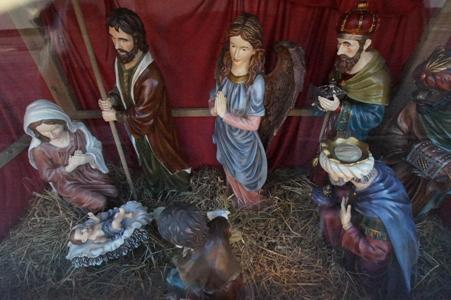 "Here, Rose," said my granddaughter, "put this man there. He can't see baby Jesus."
Elyse handed me the man with the bagpipes. "Why did he bring his bagpipes? Wouldn't loud noises scare baby Jesus?"
"You are right, sweetheart, bagpipes are loud. This man wanted to play a song for the baby. This man is a talented musician and he is bringing a present to Jesus – music. Psalm 95:1 says, Come, let us sing for joy to the Lord… God loves music."
Every year we carefully place the manger scene on the piano and ponder each figure's story. My favorite is the figure that lives in the box marked "man with headache." This fellow carries a basket over one arm and has the other hand to his forehead. I can identify with him. Some days seem so overwhelming I just put my hand to my head and stagger toward Jesus.
Unwrapping him, Elyse asks, "Why does that man look like his head hurts?"
"He is probably tired. He worked hard to get things situated so he could leave. He's worried about his family too. See his basket? His wife packed him enough food for the trip to see Jesus. His family is waiting for his return to tell them about it."
Then we came to the egg lady. She carried her basketful of eggs carefully to Jesus. "Does baby Jesus eat eggs?" seemed a logical question for someone whose baby brother was not eating solid food.
"Baby Jesus can't eat eggs, but Mary and Joseph will be hungry. Eggs are a fine gift. This lady probably doesn't have much to give, so she gathered the eggs from her chickens and brought them to Jesus."
"Where does this little boy go?" Elyse picked up a young boy who was kneeling with one hand outstretched.
"He needs to go right in front of the manger. That little boy came to worship Jesus. He didn't bring anything else. He just brought himself."
"He didn't bring a present for baby Jesus?"
"No, he didn't. Only himself. That's what Jesus gave on the cross, and that's all He really wants from us."
If I could chose the figure I'd like to resemble, it would be that little boy kneeling at the manger. He is not encumbered by gifts or laden with supplies. He simply kneels, content to gaze upon God's gift to the world.
Bow down in worship. Go to your knees before the Lord our Maker. This is a busy season. Instead of hurrying and scurrying, stressing and depressing, why not spend more time thinking and thanking on your knees in front of the One whose birth changed the world.
(Photo courtesy of morguefile and Jusben.)
(For more devotions, visit us at www.christiandevotions.us.)
---
---