But I focus on this one thing: Forgetting the past and looking forward to what lies ahead, I press on to reach the end of the race and receive the heavenly prize for which God, through Christ Jesus, is calling us. Philippians 3:13-14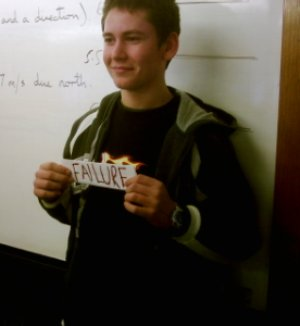 The chain clanked against the plate glass as I snapped the padlock in place. The doors were locked. The church was closed.
As Chair of the Leadership Team, it happened on my watch. I didn't single-handedly sink the ship, but even so it hurt. I'd failed.
Failure is a bully, always trying to make you less than you are. But God makes us more than we should ever be. With God, failure becomes success.
Below are a few of the successes I gained through my failure. Perhaps they will help you when the time comes.
Loyalty
If you don't know your true friends going into a crisis, you will by the time you come out. Their support will prove you wrong when you know you can't go any further. They never count the cost of being counted with you. (Proverbs 18:24)
Opportunity
Failure isn't the end. It's the beginning. You are now free. You can start again (only smarter) or start something brand new that's even more awesome. Welcome to "Your Dream, Version 2.0." (Ephesians 2:10)
Perseverance
You'll want to quit. Don't. The will to walk through the flames of tomorrow is forged in the furnace of today. (James 1:2-4)
Focus
Sometimes we need to be reminded it's not about us. It's about our mission. The only failure in life that matters is failure to keep on Mission. (Matthew 28:18-20)
Courage
You've stood toe to toe with the bully and survived. Now you know failure's secret—it isn't as tough as it wants you to believe. You don't have to be afraid of it. The only fear you now have is the fear of not trying. Congratulations, you're a world changer. (John 14:27)
Yes, I failed—thank God. Now I'm ready for what He wants me to do next. When Christ came as a baby, it was a success. God incarnate came to earth. His death might be considered a failure, but when He rose again, what a success! This Christmas season, rejoice in the failure. From failure comes great success.
(Photo courtesy of morguefile and lyns.)
(For more devotions, visit us at www.christiandevotions.us.)
---
---