You, God, are my God, earnestly I seek you. I thirst for you, my whole being longs for you, in a dry and parched land where there is no water. Psalm 63 NIV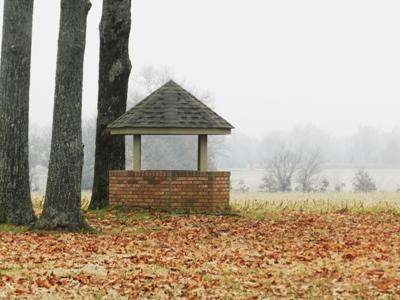 My well is shallow. Every August when temperatures hit the 90s and the rain quits for several weeks, my well begins to go dry. The faucet water turns murky, and we stop drinking it. Running the dishwasher, washing machine, and shower in one day leaves the pipes sputtering air and banging. We minimize flushing the toilet and forget watering the lawn or the garden. It's a dry and parched land when there is no water.
The Israelites had a similar problem—only worse. The book of Joel reiterates, " … the ground is dried up … the vine is dried up … all the trees of the field are dried up … the grain has dried up … the streams of water have dried up" (Joel 1:1, 10,12,17,20, NIV). They had turned from God, walked their own way, sought their own counsel, and worshiped idols. The result: fruitlessness, emptiness, dryness, a people without water.
And this is life without God.
The Bible equates a self-consumed and proud life—a life that leaves no room for Him and denies Him—with a dry and thirsty land. Have you felt empty, fruitless, purposeless, and parched? Your soul is screaming for the only water that satisfies … Jesus. He said when we drink the water He gives us we will never thirst. The water He gives will be like a spring of water welling up to eternal life.
Jesus is the well that won't run dry in the Augusts of life. His lavish, unconditional love and abundant grace can water the driest soul and bring fruit to a barren life. Joel reminds us God has given the autumn rains because He is faithful to us. Draw from His well daily and watch the dried up and withered bloom and flourish.
Water me, Lord, from your bottomless well.
(Photo courtesy of morguefile and pippalou.)
(For more devotions, visit us at www.christiandevotions.us.)
---
---