You chart the path ahead of me. Psalm 139:3a TLB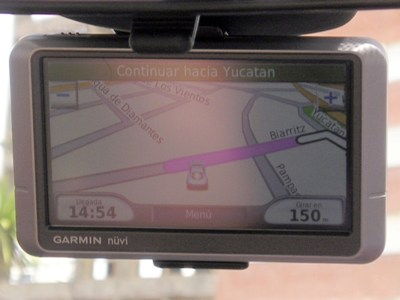 The night was dark and rain hit the windshield in a steady downpour. I was in the middle lane of a five-lane interstate, surrounded by speeding cars. I had no idea where I was or where I was going, and I was scared to death.
I looked at the GPS sitting mute on the dash of the rental car. "Speak to me, Zelda!" I said aloud, using the nickname I'd given the device at the start of this long trip.
Just as I began to fear she was broken, Zelda spoke, telling me to take the next exit on the right. I did, and in short order I was rewarded with those six sweet words: "You have arrived at your destination."
Clearly, I didn't inherit what my father called his uncanny sense of direction. I've been lost in most of the major cities of the world: London, Paris, Athens, Berlin, Tokyo, Shanghai. You name it. Chances are I've wandered around that city slack-jawed, hoping grace would lead me home.
It's the same as I journey through life. Being human, I have made some major mistakes. Some decisions have knocked me off course, and I've seemingly wandered aimlessly for a time, wondering whether I could ever get back on track.
Left to my own devices, I'd end up who-knows-where. Thankfully, though, I'm not traveling this road alone. In fact, Someone is guiding my steps. He has charted the path ahead of me, and, in His sovereign wisdom, knows exactly where He wants me to go.
When I'm driving and make a wrong turn in spite of the GPS (Yes, I even get lost with a GPS!), I see that little tracking device hurry to recalculate my position and set a new route for me. In the end, I still arrive where I'm supposed to be.
In a sense, God does the same when we make mistakes and get off track. Because He is sovereign, nothing will thwart His plans for our life. He takes our wrong turns and makes them part of the journey while ever working out His purposes for us.
I am so grateful for GPS: God's Patient Sovereignty. We can know we will arrive safely at our destination because grace is leading us home.
(Photo courtesy of morguefile and Alvimann.)
(For more devotions, visit us at www.christiandevotions.us.)
---
---