A new commandment I give to you, that you love one another: just as I have loved you, you also are to love one another. By this all people will know that you are my disciples, if you have love for one another. John 13:34-35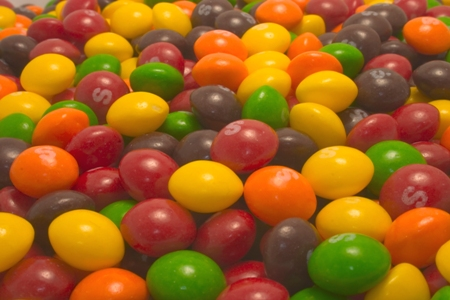 We were having the time of our lives on my son's school field trip to the North Carolina State Fair. We had looked at exhibits, played games, and rode twirling rides. Exhausted and hungry, our group went in search of something yummy to eat.
Walking through the dense crowd, I heard someone yell, "Hey, lady, you in the bright pink shirt. You stand out more than a Skittle in an M&M box of candy!" The game attendant was trying to reel me in to play the ring toss game at his booth. He certainly got my attention and my first thought: "What's wrong with my shirt? Is it really that bright?" Immediately I became self- conscious. I wondered if I looked ridiculous. Later, I just shrugged the attendant's comment off. I knew He was trying to drum up business.
While I really liked my super-comfy shirt, this guy's statement triggered something else in me. I started thinking about the attendant's comment about sticking out in the crowd. Initially, my attitude was negative, but I soon viewed things from a different perspective. Isn't it really a compliment when I don't blend in with others? I want to be different...special...unique.
I realized that's exactly what God wants for us. He wants us to stand out, not because of the clothes we wear but because of the lives we live for Him. He desires for us to be different—to be distinguished by our Christian love toward others. John tells us to love others as God has loved us. We are set apart by our actions of love toward others. We show that we belong to Him by the love we offer in our relationships and interactions with others.
Love is more than just warm fuzzy feelings. It reveals our identity to others. When people look at you, do you stand out because of the love you share? Set yourself apart from non-believers by practicing love every day. I don't mind if I stick out like a Skittle in an M&M box if that means I'm working on setting myself apart for the right reasons.
Be the Skittle for God in a world full of M&Ms.
(Photo courtesy of morguefile and natepowers.)
(For more devotions, visit us at www.christiandevotions.us.)
---
---