Consider how the wild flowers grow. They do not labor or spin. Yet I tell you, not even Solomon in all his splendor was dressed like one of these. Luke 12:27-28 NIV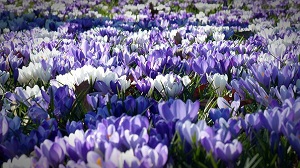 The joy I found by stirring the soil and tucking in a bulb surprised me.
I had no idea how much I missed growing a flower garden until I dug my hands into the dirt and planted tulips. When we moved to our new home, I left behind two sizeable flower beds and a few plants growing around the yard. I decided I didn't have time to tend flowers at our new house. Despite my neglect, peonies, day lilies, touch-me-nots, and a few daffodils bloomed each year. Even though I gave no effort to the existing "garden," the plants flowered and added color to my day.
Seeing the beautiful shades of Crayola-colored buds reminded me that God dressed the patch in all His glory. He provided sunshine and rain and an amazing photosynthetic process that fed the green stems.
Jesus reminds me not only that God cares for the flowers but also that He cares for me. So why do I worry? God's desire is that I depend on Him and trust Him to provide, just as He does for the flowers. I've learned that every time I trust God instead of worry, He supplies what I need.
Trust God with all your needs. He will provide.
(Photo courtesy of pixabay.)
(For more devotions, visit Christian Devotions.)
---
---