Therefore, if anyone is in Christ, the new creation has come: The old is gone, the new is here! 2 Corinthians 5:17 NIV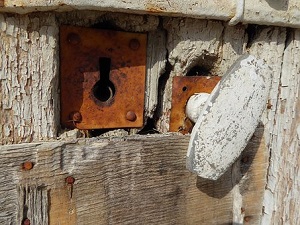 The once new creations were no more.
The deadbolts and doorknobs were in place when I moved into the duplex years ago, but the shine was gone and the metal discolored. One by one, the locks stopped working. The key either wouldn't insert fully into the slots or was so difficult to turn that I feared the key would break.
Months passed, and eventually the key would barely insert into the slot anymore. I struggled until I slid home, and I could get into the house. Ten minutes standing in one-hundred-degree heat with the sun bearing down on me and groceries piled in plastic bags at my feet was enough. The skin on my fingers and thumb was torn, and a puncture wound from wrestling and shoving the metal key dotted my hand. Time was up. I had to replace the doorknob.
The next day, I left my home unlocked and prayed over the duplex before I drove away to work. Like other neighborhoods, crime has increased since I moved into the area. My car had been broken into, ordered items had been stolen from the doorstep and out of the mailbox, porch furniture was gone, and even my American flag had been swiped. I asked God to wrap my home with His guardian angels and to keep all evil from my belongings.
I also asked God for the ability to change the lock. I was afraid I couldn't do it, yet it only took seven minutes to remove the old doorknob and install the new. I knew my own abilities weren't adequate, but with God, everything is possible—even changing a doorknob.
Like my doorknobs and deadbolts, we start out shiny. But as life happens, we discolor. One day, we realize our rust covering is sin, which separates us from God. Nothing we can do or say can erase the filth we have become. Only by looking to the Son of God and by believing in His death and resurrection can we unlock the door to our salvation. Accepting His gift creates a relationship with the Almighty God. The old creation leaves. The new creation arrives.
Thank God that you are forgiven and clean because of Christ.
(Photo courtesy of pixabay.)
(For more devotions, visit Christian Devotions.)
---
---