Since you are my rock and my fortress, for the sake of your name lead and guide me. Psalm 31:3 NIV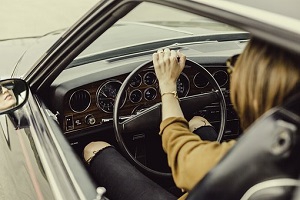 Gripping the steering wheel with clammy hands, I drove slowly down the busy city street.
A thick glossy sheet of ice covered the road. This was the first time I'd driven on ice, and I was stressed. My husband, to whom I had been married for twenty-seven years, had always been the designated driver. But he had left me for a younger woman several months earlier, and now I coped with many new things—driving on ice among them.
At the age of forty-five, I was on my way to the only job I had ever held. Along with learning the many facets of my new job, I was also coping with driving on ice.
Other drivers were impatient with my slow driving and wished to pass me, but couldn't. Suddenly, my car began sliding, and it seemed I had no power to stop it. As I desperately prayed, I watched my car inch its way toward a mailbox anchored in concrete.
Thankfully, my car stopped inches from the mailbox. I hated the thought of backing the car and getting back onto the busy street, but there was no other choice. When I arrived at work, I unclasped my white knuckles from the steering wheel and whispered a heartfelt prayer of thanksgiving.
We often find ourselves maneuvering on thin ice. Maybe not in a car, but in a situation. The more we struggle, the more we find ourselves sliding out of control. The psalmist reminds us God is our rock and fortress and will lead and guide us.
We can trust God to clear our paths, steady our feet, and put us on His firm foundation: the solid Rock of Jesus Christ.
Make sure you are standing on Jesus Christ, the solid Rock.
(Photo courtesy of pixabay.)
(For more devotions, visit Christian Devotions.)
---
---