I am the door: by me if any man enter in, he shall be saved, and shall go in and out, and find pasture. John 10:9 KJV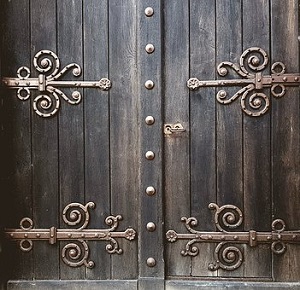 "Come on buddy, wake up!" my son said as he shook his head and lightly tapped the horn at the entrance to the retirement community where he worked.
To get to the office, he just needed to stop and show identification, but that day the guard was so busy talking on his phone that he didn't notice my son and me sitting outside. When he heard the horn, he looked up, hit the control to open the gate, and then went right back to his conversation as we drove in.
Jesus said He was the door to heaven, but He gave us the wonderful opportunity to be His doormen.
Sometimes, we in the church can be a little like the guard. A new visitor shows up on Sunday, but we are so busy that we just hurry by with a polite nod as we head out the door with our friends. We sometimes even avoid eye contact because they look a little different. In our rush, we fail to consider that maybe Jesus led them to our church so we could talk to them and lead them to Him.
Almost every day, God brings someone to our gate. Ask yourself, "What can I do to be ready to welcome others and to open the gate and let them in to see Jesus?"
(Photo courtesy of pixabay.)
(For more devotions, visit Christian Devotions.)
---
---