Hear my prayer, O LORD! And let my cry for help come to You. Do not hide Your face from me in the day of my distress; Incline Your ear to me; In the day when I call, answer me quickly. Psalm 102:1-2 NIV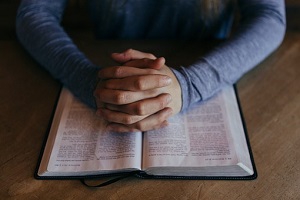 During one season of my life, my husband and I lived in two different cities.
Each weekend, he traveled home two hours each way without complaint. My job was intense, and I found myself exhausted. One of the ways I processed the stress was "venting." Each weekend when he arrived, I vented about my dissatisfaction with the job. Although he patiently listened, after several months, I realized how negative I had become.
When one Friday came and my husband arrived, I began my usual rant. However, this time before I started, I pulled out a timer and set it for twenty minutes. I allowed myself time to vent, but once the timer went off, I didn't bring up the subject of work again the rest of the weekend. Twenty minutes flew by quickly, but I stopped. Later, when I was tempted to vent about work, God gently whispered, "Bring it to me."
God encourages us to cry out to Him for help. Grief, sorrow, and dissatisfaction are expressed as poems in the book of Lamentations, and David cries out to God continually in Psalms.
God wants to hear from us. He knows the details of our situation and even has the power to do something about it. Putting a simple timer on venting taught me to pick my battles, exercise self-control, and focus on gratefulness. A more fervent prayer life and connection with God resulted.
Musician Michael Card said, "We all carry deep within ourselves a pressurized reservoir of tears. It takes only the right key at the right time to unlock them. In God's perfect time, these tears can be released to form a healing flood. That's the beauty and the mystery of the prayer of lament."
When you need to cry out, go to God first.
(Photo courtesy of pixabay.)
(For more devotions, visit Christian Devotions.)
---
---