Indeed, the word of God is living and active, sharper than any two-edged sword, piercing until it divides soul from spirit, joints from marrow; it can judge the thoughts and intentions of the heart. Hebrew 4:12 NRSV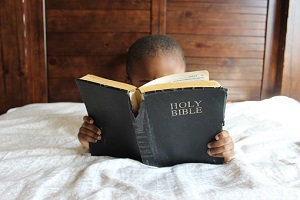 In the Midwest, springtime can be brutal.
One day, hats, coats, and boots are needed. The next, shorts, t-shirts, and flip flops. The wacky weather patterns last for several weeks and can be frustrating.
Meteorologists are in charge of helping us navigate this torturous path. Seven days a week, they spend hours using their knowledge and technology to determine the forecast. Each day, they broadcast their findings. And those who watch or listen leave their homes fully prepared to face what the day may bring.
But in the United States, only around thirty percent of the population watches, reads, or listens to the weather. That leaves a large number who leave their homes ill-prepared for the day's weather events.
Unfortunately, just as many Christians daily leave their homes without the knowledge and wisdom they need to get through the day. According to a 2009 Barna study, only one-third of adults read their Bible one or more times a week. Just like their non-weather-watching peers, they live unprepared for the challenges they may face.
Without seeking guidance from God's Word daily, we are left uncovered—like being in a rainstorm with no umbrella. No Scripture to meditate on to walk us through the harshest storms. No words to convey our thankfulness when life is more than we can express.
The Bible is more than a book of words and stories. God gave it as a guide to help us navigate the terrains of life. The Scriptures provide insights which prepare us for any season of life. Why not take some time every day to read your Bible? Doing so will equip you for what lies ahead.
Make a plan to incorporate daily Bible reading into your schedule.
(Photo courtesy of pixabay.)
(For more devotions, visit Christian Devotions.)
---
---