You were running a good race. Who cut in on you to keep you from obeying the truth? Galatians 5:7 NIV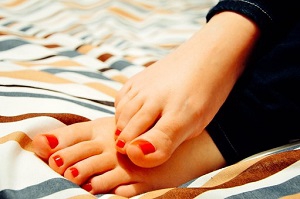 My big toe let me know I had annoyed it.
I love the Power Pump workout class at my local YMCA. But the problem began as soon as I put my foot down for the lunge track. I ignored the pain in my big toe and concentrated on the proper movements. No luck. How annoying. It had to be the pedicure I had gotten the day before. My toenails were shorter than usual, and I had probably started an ingrown toenail. I would endure this small obstacle cutting into me.
I love the lunge track because I have decent lower body strength and can usually perform well. But getting on my knees and balancing involved cramming my sore toe into the ground for support. I really wanted to leave my friend Erin, who was right next to me, in the dust.
You were running a good race. Who cut in on you to keep you from obeying the truth? I think when Paul wrote this verse he had in mind a little healthy competition—but for the right reasons. The people he wrote to were competing about an old law and getting derailed. The old law was an obstacle to obeying the truth of Jesus. God didn't require the Gentiles to follow the old Jewish law of circumcision. Claiming uncircumcised Gentiles weren't part of God's family—the obstacle—cut off some Jews in the good race they were running. They needed to fulfill the law by loving all people.
Was my possible ingrown toenail something I needed to work through? Was it an obstacle to winning my competition—an obstacle Erin knew nothing about? The truth is, Erin is much stronger than I am and more disciplined in her overall workout routine. Leaving her in the dust was a figment of my imagination. The ingrown toenail was certainly an irritant to my adequate performance, but instead of being an obstacle to my "race," it redirected my attention to love Erin as I do myself.
Many things can cut in on us and keep us from obeying the truth. A pedicure got my attention. Though we are formed from dust, God doesn't want us to leave others in our dust. Rather than becoming conceited and envying one another, God wants us to love our own "Erin."
Run the good race by loving others as you do yourself.
(Photo courtesy of pixabay.)
(For more devotions, visit Christian Devotions.)
---
---