I have received full payment and have more than enough. I am amply supplied, now that I have received from Epaphroditus the gifts you sent. They are a fragrant offering, an acceptable sacrifice, pleasing to God. Philippians 4:18 NIV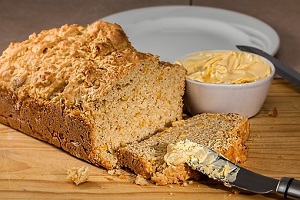 "Don't take the bread!"
Once, while at a restaurant with friends, the waiter asked if he could remove items from the table to give more room for the main course. As he reached for a cup, I assumed he was about to remove our leftover bread. Without thinking, I said, "Don't take our bread!"
Embarrassed by my too-quick and loudly spoken order, I apologized for my unnecessary outburst. In a kind, soft spoken tone, the gentleman replied, "Oh, no worry. I won't remove the bread. I will only bring more."
Although in prison, Paul proclaimed he had enough. I have received full payment and have more than enough. I am amply supplied, now that I have received from Epaphroditus the gifts you sent. They are a fragrant offering, an acceptable sacrifice, pleasing to God.
After my experience at the restaurant, I thought about how I react to God's graciousness. He continuously gives me good things, but I worry they will disappear. Yet He supplies me with more than I need or deserve.
Think about what you need to turn over to God today. Trust His timely reply and ample provision.
(Photo courtesy of pixabay.)
(For more devotions, visit Christian Devotions.)
---
---