But lay up for yourselves treasures in heaven, where neither moth nor rust destroys and where thieves do not break in and steal. Matthew 6:20 NKJV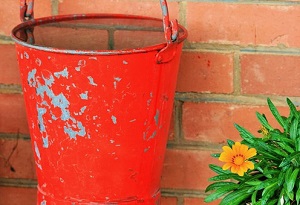 Besides moths and rust, fire also destroys earthly treasures.
Before the Industrial Revolution took hold around the world, firefighting often required communities to band together and pass buckets in what's known as a bucket brigade. The only way to put the white stuff on the red stuff was hand-to-hand movement of water from the supply to the fire. One or two people couldn't extinguish an already burning structure.
Our church once used fiber food containers—about one gallon in size—to take the offering. The more I thought about it, the better I liked it. It clearly showed the relationship between a bucket passed, resources gathered, and resources applied to the fires of temptation, loss, and sin that rage in our culture.
In the Sermon on the Mount, Christ spoke about laying up treasures in heaven. He also gave us the Beatitudes, the Lord's Prayer, and numerous other clarifications of God's intent for us to understand the law and Jesus' fulfillment of it.
When Jesus spoke of the storehouses, He encouraged community participation. He knew if we didn't prepare for trouble, the fiery darts of the evil one would set us on fire, and we would be without the means to extinguish ourselves or our community.
Our challenge continues to be thinking long term, especially in today's world of instant gratification, fast food, and entitlements. What God puts before us includes a plan for when disaster strikes. If we don't add to the storehouse now, we will look in vain during times of great combustion. Not only will the buckets be empty, but also no community will exist to assist us.
The concept of community and abundance allows us to depend upon our church in times of need. We can put our money in a financial institution, but no one there can react to and bless us like the corporate act of worship when we add our resources to the church collection bucket.
Make sure you put your resources in the right bucket.
(Photo courtesy of pixabay.)
(For more devotions, visit Christian Devotions.)
---
---