I correct and discipline those whom I love. So be earnest and change your hearts and lives. Revelation 3:19 CEB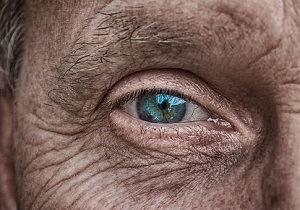 In less than three years, I went from perfect vision in both eyes to legal blindness.
The thoughts of permanently losing all vision, which seemed inevitable, frightened me. In time, I regained acceptable vision in one eye. But for decades following, I experienced roller-coaster feelings from hope to despair. The uncertainty and frustration devastated and sometimes paralyzed me.
Eyesight isn't the only vision we can lose. Those feelings of despair also plagued me when church leaders unexpectedly announced discontinuing the outreach programs. Why would they do that? The answer was simple but sad. As a body of believers, we had failed to share the good news of Jesus Christ to those around us. Our vision had become blurred. No longer did we feel a sense of challenge or concern for friends and neighbors.
Jesus described the church at Laodicea, a thriving city of great wealth, as neither hot nor cold. They thought they had everything they needed, but God declared them poor and blind. He urged them to turn from their indifference.
Like those believers, our church body had become self-satisfied, concentrating only on its own needs. The fields were ripe for harvest while we remained blinded and lukewarm toward serving, ministering, and witnessing to those outside our congregation. Because of our inaction, many within our community never heard or learned about eternal life.
Decisions and behaviors identify us as Christians. Unfortunately, in my decades of life, I have met unbelievers who looked and acted more like Jesus' followers than my fellow believers—or, at times, even me. Just as I had lost my physical sight, we can lose spiritual vision—the ability to see God's divine purpose for us to go into all the world and share His love and plan of salvation.
Losing one's eyesight is a terrible thing, but how much worse for Christians to lose spiritual sight.
If you are living a lukewarm life, ask God to empower you as a faithful witness and as a server for the physical and spiritual needs of others.
(Photo courtesy of pixabay.)
(For more devotions, visit Christian Devotions.)
---
---