No servant is greater than his master, nor is a messenger greater than the One who sent him. John 13:16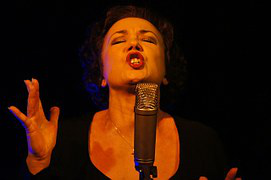 Sunday morning. I stood before our congregation—nervous and weak-kneed.
When the Lord gave me the gift of writing songs, I felt blessed. When I became aware He wanted me to sing them, I argued, "Please send someone else."
As I sang, my voice echoed back through the hushed sanctuary. I don't sound as bad as I thought I would. I hope everyone is impressed. My confidence grew. I could pull this off. You might say I grew a little cocky.
Then it happened. As I praised myself for performing beautifully, a breeze blew through an open church window, taking the words to my song up into the air and out the stained glass window. My heart sank. I gave my accompanist a sick grin and we started over.
This time I kept my mind on the words and off my voice. But the damage was done. Never would I put myself through that humiliation again.
After church, I jumped in my car and headed for home to avoid further embarrassment. I was angry…disappointed. Through a flood of tears, I confronted God: How could You do this to me? You gave me this gift of song. It was Your idea, that I sing them. You put me center stage. How will I ever be able to face my friends again?
God spoke back: "What are you doing center stage anyhow?"
God was right. I was ashamed. But God is good. He helped me understand my haughtiness and quickly replaced the shame with a valuable lesson: humility—a far greater gift than writing. I praise the Father in Heaven for loving me enough to teach me that. He showed me the songs were for His glory, not mine.
When my eyes shift to myself instead of God, I lose sight of what's important. Taking credit for my gifts and being sucked into selfishness are easy. John reminds us no one is greater than Almighty God. Gifts come from the Father, not ourselves, and the glory is His, not ours. I survived embarrassment—and learned a lesson to boot.
When you find yourself looking at the Father and taking credit for what comes from Him, remember to give Him the glory.
(Photo courtesy of pixabay.)
(For more devotions, visit us at www.christiandevotions.us.)
---
---