"For I know the plans I have for you," declares the Lord "plans to prosper you and not harm you, plans to give you hope and a future." Jeremiah 29:11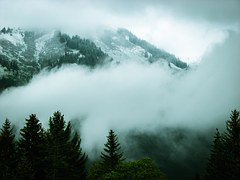 While driving through the mountains, I approached a cloud that hovered low over the highway. I was forced to slow down because I could barely see a few feet ahead. The road was curvy and I moved carefully, not knowing how long it would take me to get through the fog. It was all I could do to keep driving, but before long I was through the white mist and could see the beautiful mountains around me. Passing through that cloud forced me to look at my life.
There have been times in my life when things appeared fine but then the bottom would drop out. I would be in a place where I couldn't see what was ahead of me—or how to respond. All I could do was keep going without knowing how long the turmoil was going to last. I could not see far in front of me, but I kept going and, eventually, I could see down the road again.
Even when I couldn't see what was going on or why, God was with me. He would bring me out in His time. He knew where He was leading me, and it was always to a better place. The longer I wandered through the cloud, the better it was after the sun would shine in my life. In the cloud, strongholds were broken and a better understanding of the Father's love was gained. It was always a time of getting close to my Father.
Keep your eyes on the Father, and He will see you through whatever you are facing. Your relationship will grow as you draw near to Him.
(Photo courtesy of pixabay.)
(For more devotions, visit us at www.christiandevotions.us.)
---
---