But whoever drinks of the water that I will give him will never be thirsty again. John 4:14(a) ESV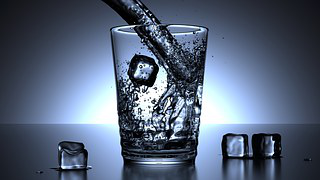 Camels drink a lot of water at one time—up to thirty-two gallons in thirteen minutes. Where do they store it? Uhmm, no, not in their humps.
A camel's hump stores fat that is built up by eating and drinking. Once their humps contain the maximum fat, they can go several months without more food and several weeks without more water, depending upon their work conditions and environmental situations. We humans have different levels of needs. Go three days without water intake and your body begins to die. Go three weeks without food and you'll be too weak to survive.
A recent conversation concerning the use of the word withered led to a few statements. The Greek word used in the New Testament means to be devoid of water to the point of death. Scripture tells us that trees planted by a river won't wither because they have a constant supply of water. Conversely, seeds sown on non-hydrated soil will perish.
Our soul requires constant watering. Jesus understands our design and offers encouragement throughout the Bible to continue a daily intake. He gives a source of unlimited spiritual water that will prevent us from withering. In fact, this water carries us through to eternal life.
Daily intake of water allows our body to function better and not deteriorate. Our skin remains pliable and protects us from infection. Our heart beats steadily to carry nutrients everywhere. Our liver, kidneys, and intestines process toxins and wastes out of us. If any one of these functions fails, we die. So it is with the water of God's Word. If we sit once a week in church to hear the Word and depend upon it for the rest of the week, we practice life as if we are camels. Not only will our soul lose its vitality, but our body suffers as well.
If we drink of God's Word on a daily basis and prepare for the journey ahead of us, we stand prepared for changes in both our spiritual environment and the spiritual workload increase caused by the attacks of our enemy.
Come with me. Drink until eternity.
(Photo courtesy of pixabay.)
(For more devotions, visit us at www.christiandevotions.us.)
---
---