In everything give thanks; for this is God's will for you in Christ Jesus. 1 Thessalonians 5:18 NASB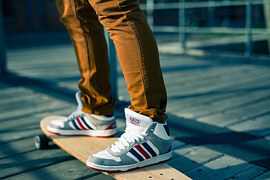 He wanted a Hobie—the Cadillac of skateboards in its day.
Sammy rode down the hill on his skateboard, hair blowing in the wind—a huge smile on his face. I encountered Sammy's family when I lived in Hawaii in the 1970s. A family who taught me the value of giving God thanks in all things.
Sammy's mother was a single mom with three children. She struggled financially to make ends meet, so there was little money to buy Sammy a skateboard. This didn't keep Sammy from dreaming. He wanted a skateboard of his own, and not just any skateboard.
One day, a church family gave Sammy a skateboard. It was old, a bit worn, and not a Hobie. But a skateboard nonetheless. Sammy was grateful. One afternoon, Sammy rode his skateboard down the hill by his house but managed to get separated from his skateboard. The board traveled down the hill without him—straight into a storm sewer. Sammy was horrified. The skateboard wasn't new, but it was all he had. With no way to get to the skateboard, he came home, forcing back tears. How could God could give him a skateboard and then take it away?
His mom called the city utilities department and explained her dilemma. "Can you send someone to retrieve the skateboard?"
A worker soon arrived, removed the manhole cover, and descended into the drain sewer on his ladder. Within minutes, he returned, holding the skateboard. Sammy and his mom were delighted. They watched as the worker descended into the sewer a second time, only to return grasping a virtually brand-new skateboard—a Hobie.
"Until someone else claims it, I guess it's yours." The utility worker smiled and handed Sammy the skateboard.
God provides for us in the most unique ways. For you, it may not be a new skateboard, but when you place your needs before Him—when you pray believing, God will supply your need. Our problem lies in thanksgiving. Rarely do we take time to offer thanks to our Father who so sweetly notices even the smallest things.
Paul commands us to give thanks—and rightfully so. When God provides, remember His blessings and give thanks.
(Photo courtesy of pixabay.)
(For more devotions, visit us at www.christiandevotions.us.)
---
---