Beloved, do not be surprised at the fiery trial when it comes upon you to test you, as though something strange were happening to you. 1 Peter 4:12 ESV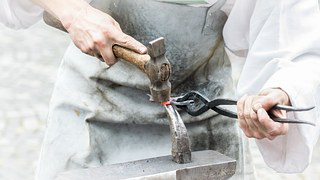 Caution! Beware! Precaution Necessary! Danger! Exclamatory words that warn about the destructive nature of fires. Fire can be a harmful, evil, and destructive enemy.
Natural fires claim the lives of countless individuals around the world, causing great loss within society and changing lives forever. The Bible uses fire figuratively when speaking of spiritual elements and the supernatural.
During their wilderness journey, God led Moses and the children of Israel during the night with a pillar of fire. Peter speaks of the fiery trials that test our character and how we endure under trials of hardship, death, illness, and a host of other problems. Fire is also used to refer to the purifying methods God uses to make us more like Jesus.
The biblical analogy of fire refers to the process a blacksmith uses. He first hammers the metal and then melts it into liquid gold. When the impurities rise to the top, he scrapes off the dross. God, in a similar manner, sends His fire through situations. He uses the Holy Spirit to cleanse and purify our hearts and minds.
As we experience the heat of God's fire, we should not worry or fret. God is simply using precautionary measures to make us more like Jesus. He's burning and destroying those things in our lives that aren't like Him—actions and mindsets ingrained from our sinful nature, useless things which bear no fruit. God is doing a great work for His glory.
Will you be bold enough to ask the Lord to send His fire?
(Photo courtesy of pixabay.)
(For more devotions, visit us at www.christiandevotions.us.)
---
---