You keep track of all my sorrows. You have collected all my tears in your bottle. You have recorded each one in your book. Psalm 56:8 NLT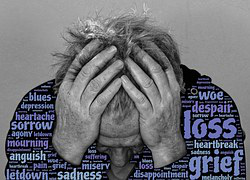 I ran into Judy in a corridor at church one Sunday morning and was giving her a hug when a friend interrupted our conversation and said, "I'm praying for you, Judy."
Judy had been widowed three months earlier. We talked about how she was doing and the mounds of paperwork she was sorting through.
"Thank you, I need prayer," Judy responded, as her eyes filled with tears.
"Oh, don't cry. Let's not have tears," her friend said as she patted Judy's shoulder.
I'm not sure if I kept a straight face or looked appalled, but I wanted to cheer for Judy as she answered, "No, I need to cry."
Clearly uncomfortable, the woman walked away and said, "Well, I'm praying for you."
I turned to Judy and said, "Cry all you need."
I appreciated Judy's boldness to set the record straight. Grief tears are necessary and normal. Tears of grief are different from tears we shed when we peel an onion or are exposed to irritants. They contain healing chemicals.
Jesus wept at the news of his friend Lazarus' death. Jesus is also referred to in Scripture as a Man of Sorrows. Our tears are so important to God that He stores them in a bottle and records every one. He knows we need to cry and expects that we will. He designed us to cry as a part of our healing.
Watching your friend cry may be awkward, but can you step away from your discomfort and affirm their need to shed tears?
Crying is a part of grief journeys. View your tears as God's gracious provision.
(Photo courtesy of pixabay.)
(For more devotions,visit us at www.christiandevotions.us.)
---
---