Therefore, in order to keep me from becoming conceited, I was given a thorn in my flesh, a messenger of Satan, to torment me. Three times I pleaded with the Lord to take it away from me. 2 Corinthians 12:7-8 NIV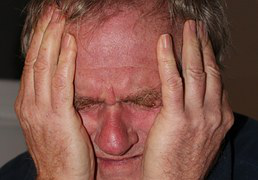 Telling a depressed person to stop being depressed is like telling someone who is shot to stop bleeding.
I suffer from bi-polar depression, but hesitate to admit it because of the stigma associated with mental illness and because Christians often misunderstand it. Depression and other illnesses are not the same as character defects or spiritual disorders. Nor do they result from a lack of faith.
Like the thorn that afflicted the apostle Paul, depression is a common tormenting illness. In a congregation of 500, 140 may suffer from anxiety or depression. Numerous biblical characters experienced it—among them Elijah, Jeremiah, and Jonah.
Depression is usually caused by a combination of genetic, biological, environmental, and psychological factors. Magnetic resonance imaging can show the differences in the mood centers of the brain of depressed patients.
Symptoms of depression often include: persistent sad feelings, feeling of hopelessness, irritability, loss of interest in enjoyable activities, difficulty concentrating and remembering details, making decisions, insomnia or over-sleeping, overeating or appetite loss, suicidal thoughts, and aches, pains, headaches, or digestive problems that do not ease with treatment.
People who suffer from a number of these symptoms over a two-week period should visit a medical doctor. As a patient, I've found visiting my doctor for a physical check-up to be helpful. Sometimes viruses or thyroid issues can produce depressive symptoms. Rule these issues out.
If you are diagnosed with clinical depression, medications may help. My medications have generally taken a few weeks to reach a therapeutic level. If one medication does not work, others can be taken. Don't give up. I have also found psychotherapy effective. One type, "cognitive behavior therapy," is often used in managing symptoms. Medication and psychotherapy give depression a "one-two" punch, and for many the depression will go into remission.
With God's grace and peace, your anxiety and depression can be managed.
Prayer: Whatever our weaknesses, gracious heavenly Father, may they be used for your glory.
(Photo courtesy of pixabay.)
(For more devotions, visit us at www.christiandevotions.us.)
---
---