The seed cast on good earth is the person who hears and takes in the News, and then produces a harvest beyond his wildest dreams. Matthew 13:23 MSG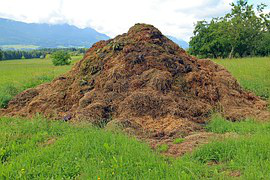 When a storm-damaged Carolina pine leaned ominously toward our home, it had to be removed. Top to bottom, the tree was taken down until only a whittled stump remained. Later, a grinder pulverized the stump. When all was said and done, what remained was a bald patch of earth.
My husband was determined to cover the scar with grass. First, he tried run-of-the-mill grass seed. When that didn't work, he bought small bags of expensive, imported, guaranteed-to-grow grass seed. He raked the ground, sowed the seeds, put up a fence to keep dogs and pedestrians away, daily watered the sunny patch of soil, and waited expectantly for the grass to grow. Weeks passed without a blush of green appearing. Things were not looking good.
As my husband minded his patch of ever-tan earth, I fluffed the soil in our compost garden, preparing it for the vegetables we would soon plant. A week or two went by when I noticed something growing in the garden. I exhaled an "Oh, no" at the sight of lush green blades of grass pushing their way up through the soil. Sown by the wind with nothing more than sun and rain to tend them, the seeds had come alive in the humble soil of our compost garden, yet remained dormant and unyielding in our carefully tended patch of earth.
Our predicament reminded me of the parable of the sower, where the seed was the Word of God, Jesus and his followers were the sowers, and the soil was the hearts of men and women. Some hearts were hardened. Like the soil where the pine grew, they would not receive the Word of God regardless of how well they were tended. Other hearts were softer, like the soil of our garden. They readily received God's love and thrived.
Rather than being a soil inspector, simply sow the seed and leave the rest to God.
(Photo courtesy of pixabay.)
(For more devotions, visit us at www.christiandevotions.us.)
---
---