I have fought the good fight, I have finished the race, I have kept the faith. 2 Timothy 4:7 NIV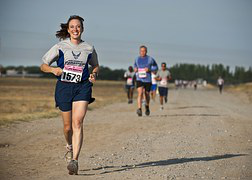 Amazing things happen when a race is finished.
Peyton Manning referred to 2 Timothy 4:7 when he recently announced his retirement from the NFL. Like Manning, Christians are called to finish the race. Another lesser-known athlete competed in the 1968 Summer Olympics in Mexico City. John Stephen Akhwari fell while running the 42 km race and badly injured his knee and shoulder. Three and half hours after he had started the race, Akhwari crossed the finish line. Most of the cheering crowd had left. When a reporter asked Akhwari why he had continued running, he replied that the country of Tanzania had not sent him to start the race, but to finish it.
My assistant principal recently shared Akhwari's story, and we agreed that educators also struggle to finish the race they are running. In the midst of state tests and constantly changing technology, we're often left questioning if we are making any progress. We may be forced to change our game plan, become injured or dehydrated, or fall and need assistance, but we are all called to finish the race.
Whether we are competing in the Super Bowl, running an Olympic marathon, preparing students for the future, or going about our daily routines of living, we are called to finish the race. We may face daily frustrations, physical limitations, emotional stumbling blocks, or societal criticisms, but we need to put our shoulders to the wheel and forge ahead.
When Christ prayed in the Garden of Gethsemane, he struggled to carry out God's plan. Carrying His own cross up the hill of Golgotha, He stumbled and needed help; however, He was called to finish the race.
Finishing first or last is insignificant. God did not send His Son to start the race, but to finish it. Likewise, He calls us to continue to press toward the goal and the prize.
When you feel as though you can't finish, do it anyway – for you are called to finish and accept the prize.
(Photo courtesy of pixabay.)
(For more devotions, visit us at www.christiandevotons.us.)
---
---