For the Lord your God is living among you. With his love, he will calm all your fears. Zephaniah 3:17 NLT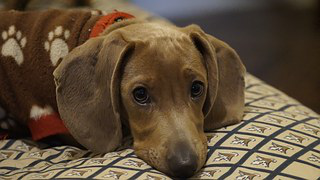 "Sadie is howling, whining, and acting like a crazy female."
Autumn colors reflected in a fishing pond beside the quaint cabin. A family getaway for four in the mountains of Tennessee. In the trip planning, paw marks indicated a pet-friendly rental cabin. The foursome included me and my husband along with Sadie, a female dachshund and Big-T, a male pug.
Sadie does not like new adventures or riding in a vehicle. She is a homebody (home-dog). She relentlessly paced in the backseat, whining with displeasure. After arriving, she anxiously refused to eat for hours.
Each night we put the dogs in their own crates with cozy bedding. Sleeping quarters we call "your house" brought from home. Surely, the familiar would calm.
Sadie's howling started the first night. Big-T (the pug) would eventually join in with whimpering, "What's wrong with her? Maybe I don't like it here either." We took turns getting up, scolding her, tapping the crate, and saying, "No! Go to sleep Sadie!" Each time, the tapping became more forceful with sleep deprivation.
It brought back memories of getting up with our children as infants. No scolding or forceful tapping. Only feeding, holding, and rocking with lullabies. And sleep deprivation.
We never allow the dogs to sleep on our bed at home, so unless we became desperate, it was not an option. We did not want to start a habit away from home that would be hard to break later.
Our daughter checked in with me by phone text. As I typed the message about howling, whining, and acting like a crazy female, I thought the words were fitting lyrics for a country song. Some country songs are about dogs and crazy females. We have friends who are country artists, although we never pitched the idea.
As Christians, earth is our temporary home. One day we will travel to a heavenly home where we will spend eternity. This fallen world and unfamiliar surroundings can make us anxious, nervous, crazy, and whiny.
Christ speaks words of peace to us. Never scolding, but softly tapping on our hearts, gently whispering, "Hush child and rest in me." God is living among us; let His love calm all your fears.
(Photo courtesy of pixabay.)
(For more devotions, visit us at www.christiandevotions.us.)
---
---