No one should seek his own good, but the good of the other person. 1 Corinthians 10:24 HCSB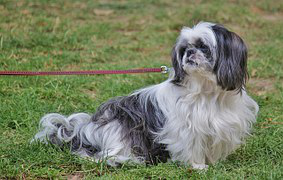 The retractable dog leash sounds like an interesting device—until pooch gets into trouble.
Pets have the freedom to run and explore on retractable leashes that extend up to twenty-six feet and are equipped with a locking mechanism. Unfortunately, that's far enough away for a dog to wander into traffic, get attacked by another animal, or nip at someone before you can personally intercede.
Locking mechanisms can also fail, which hinders a pet owner's effort to pull their pet back from danger. The very device meant to open up a dog's world can easily end their life. The handler holds the key to their safety—reeling them in when danger is near or keeping them close enough to avoid it. Sadly, the person holding the leash isn't always attentive. Reading, texting, or listening to music can divert an owner long enough for an incident to occur.
Our heavenly Father watches over us with an undistracted eye. He allows us the freedom to roam and make our own choices. We, in turn, experience the scrapes and pitfalls of life. Through them, we learn to set personal boundaries. A wise sojourner will remain in close proximity to God. The closer we are, the easier it is to hear His voice. He alerts us to potential danger and reminds us that with freedom comes responsibility to others.
The Bible says everything is permissible, but not everything is profitable. Danger lurks around careless corners. Everything isn't good for our body or our minds, so we should monitor what we watch and eat. Expressing our freedom can also harm those around us. Just because we can doesn't mean we should. A joke at someone else's expense could injure them deeply. An innocent drink at the office party is fine, until we learn the new employee we were hanging around with is struggling with alcohol abuse.
When we consider our actions in light of the effect they have on others, we encourage rather than tear down. Cultivating that type of freedom is worth pursuing.
God's mechanisms don't fail. Stay close to Him and imagine the jolt if He retracted your leash.
Then think about how your actions build up the body of Christ, and make adjustments if necessary.
(Photo courtesy of pixabay.)
(For more devotions, visit us at www.christiandevotions.us.)
---
---