Do not neglect to show hospitality to strangers, for thereby some have entertained angels unawares. Hebrews 13:2 ESV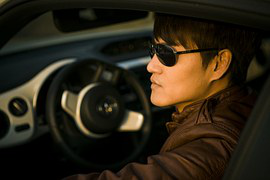 Fists, feet, keys, and knives were frequently used to retaliate against the perceived violator.
As a new police detective many years ago, my first assignment was to handle crimes related to road rage. I was amazed by how many people became indignant following minor traffic faux pas.
My older brother pastors a large church and once had a minor blunder with another motorist who gave him the full bird salute—middle finger extended with the others bowing in prayer hoping to avoid a fight. When the antagonized driver realized he had "flipped off" his pastor, he took his sinful self to another house of worship and was never seen again.
I thought of this incident recently while on a long-distance bicycle ride. Most drivers are very courteous, even fearful of getting too close lest I become a hood ornament. But while crossing an intersection, a man in a hurry cut me off. As I hit my brakes to avoid the collision, he waved his hands apologetically. I returned the wave and smiled, trying to communicate a phrase from the late Los Angeles Lakers basketball broadcaster, Chick Hearn, "No harm, no foul."
While courtesy on the road differs from hospitality in the home, the principle is the same. I have no reason to doubt a literal interpretation of this verse. If that is the case, how many times have I demonstrated kindness—or mean spiritedness, to one of God's cherubs?
If we claim to be followers of Christ, the fruit of the Spirit—love, joy, peace, patience, kindness, goodness, faithfulness, gentleness, and self-control—should prevail. It will consistently triumph when we water our soul with the Word and fertilize our faith with the fullness of the Holy Spirit.
Ask God to help you till your heart's soil so you can be light in a dark world—even during moments of road rage.
(Photo courtesy of pixabay.)
(For more devotions, visit us at www.christiandevotions.us.)
---
---