The tongue has the power of life and death and those who love it will eat its fruit. Proverbs 18:21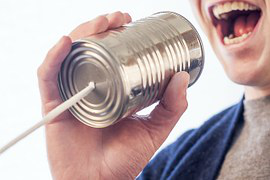 The last words I heard from my dad before he died were that I was going to lose everything I owned.
When I was growing up, my dad would say unkind words to me such as, "You are not good enough to be my son," or "Nothing good will come of your life." I never heard a positive word from his mouth. I lived for many years trying to get my dad's blessing on my life. Just one time I wanted to hear him say I was doing a good job. To this day, I have to battle with the words my dad spoke.
Words have power in people's lives. The only way to overcome the curses words can bring is to first turn your life over to God and then read His word and dwell on it. Memorize His promise that the plans He has for you is to prosper you, not harm you, and to give you an abundant life.
While I was praying on one occasion, I heard the voice of the Lord inside of me say, "One day you will see Me face to face, and I will wipe away every tear you have shed on this earth. And I will say, 'Son, job well done.'"
Even if you say something to someone teasingly, it can impact because the enemy will use the careless words for his glory. He will bring them back to the person repeatedly when the person is down or struggling. We should speak our words carefully because God will hold us accountable for every word that proceeds out of our mouth.
Are you speaking life or death into the people around you? Speak words of encouragement into the lives of those around you, and watch the difference in the person you are speaking them to.
(Photo courtesy of pixabay.)
(For more devotions, visit us at www.christiandevotions.us.)
---
---