As iron sharpens iron, so one person sharpens another. Proverbs 27: 17 NIV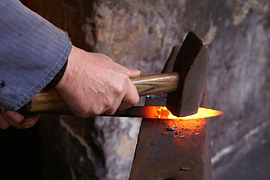 Trying to cut something with a dull knife is exhausting, frustrating, and dangerous.
Injuries are more likely to occur with a dull knife because cutting with a dull knife requires more resistance and effort to get the job done. The knife's purpose is to help, but when it is dull it becomes a burden because it's not functioning to its fullest potential.
The same is true of people. A person falling short in character or living in a state of repeated sin isn't living up to his potential and is dull. But all of us have aspects in our lives that need sharpening.
This simple proverb is layered with truths to sharpen us. To say "Iron sharpens iron" implies we need Christians to sharpen Christians. If we allow the world to sharpen us, it may be more damaging than good. Just as iron will never be sharpened but dulled by wood, so Christians should not seek the world's advice when refining our souls. Rather, we need trusted believers who have God's truth and our best interests in mind.
A rough process occurs when iron sharpens iron. There is friction and removal of waste and of what is useless and dull. Sharpening is also a process that takes place again and again. Thankfully, the procedure is also gradual. Instead of a chisel chipping chunks away from stone, the sharpening is a smooth, steady gliding motion. God and other believers will sharpen and refine us over time and in a loving way.
The end result of the process—"so people can improve each other," is also important. So often we look only to ourselves to improve—our grit, our resilience, our knowledge, our strength, our skills, and our power. We reach into our beings and fall short. Thoughts of change overwhelm us.
We don't have to wander, face our demons, muster enough strength, and solve all the problems alone. God and fellow believers can help.
God created us to help one another carry burdens and lighten loads.
(Photo courtesy of pixabay.)
(For more devotions, visit us at www.christiandevotions.us.)
---
---