Do not store up for yourselves treasures on earth, where moths and vermin destroy, and where thieves break in and steal. But store up for yourselves treasures in heaven, where moths and vermin do not destroy, and where thieves do not break in and steal. For where your treasure is, there your heart will be also. Matthew 6:19?21 NIV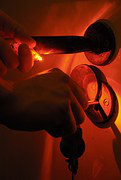 Whipping my car up the driveway, I parked near the back steps. With packages and both girls in tow, I unlocked the door and entered the kitchen. Within seconds, I backed out the same door.
I couldn't wrap my mind around what I'd seen. Searching for some feasible explanation, I drove to our neighbor's house and called my husband. When he answered, I blurted, "Did you come home and leave all of the kitchen cabinets open?"
Sitting in disbelief, my husband and I answered the detective's questions. We'd been robbed. We'd lost much of what was valuable―not only in dollars but in sentiment. The latter was the greater loss―the loss of items tied to loved ones who'd passed on and times we could never revisit.
We'd lived in our home less than a year and were content with our new surroundings. How quickly that all changed. Our home was equipped with an alarm system, but I'd failed to set it. If I'd taken time to secure the perimeters before rushing out the door, I could've avoided the loss of cherished possessions and days of unrest.
For the next few weeks, I wore the alarm panic button hooked to my side. The intruders had not only violated the borders of our home, they'd violated the confines of my heart. They'd stolen something far greater than possessions—my peace.
The same is true in our spiritual lives. One minute we're content, the next the enemy has ransacked our souls. How do we hold our place of contentment when the enemy attempts to violate the borders of our lives?
We must secure the perimeters of our hearts and minds. When we put down the panic button and pick up the sword of God's Word, we refuse to allow our thoughts to run wild and, instead, focus on the One who is in control of all things. Then with our shields of faith held high, we can cling to His promises—promises that hold firm and secure as we step out to meet the day.
Secure your perimeters. The enemy can take our peace only when we hand it over to him.
(Photo courtesy of pixabay.)
(For more devotions, visit us at www.christiandevotions.us.)
---
---