Jesus answered, ?If I want him to remain alive until I return, what is that to you? You must follow me.? John 21:22 NIV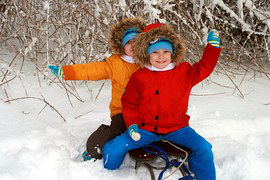 Both boys are filled with a bundle of potential, but they will never be cookie-cutter images of each another.
One eleven-year-old relative plans, organizes, and sticks with his agenda. Everything has a place, and everything should stay in its place. His father used to rearrange his toys just to catch his reaction. On the other hand, his eight-year-old brother sees no problem with a bit of disorder. As long as he has a good time, who cares? Thus, their parents encourage each to excel in his particular way.
When Jesus called Peter and John to follow Him, their personalities also fell at opposite extremes. Jesus transformed the impulsive, rough-around-the-edges Peter, who denied Him three times, into a powerful evangelist. Peter boldly proclaimed the gospel and gave his life for it. The more introspective and humble John became a writer who exposed false teachers and provided hope to persecuted believers while exiled for his faith.
As Jesus prepared Peter for future ministry and martyrdom, Peter asked about John's future. Jesus politely, but firmly, told Peter to mind his own business. Jesus would take care of John.
That message remains equally relevant today. Rather than trying to run someone else's life or imitate their ministry, we need to focus on God's purpose for our individual lives. To each of us, Jesus says, "You must follow me." We do so in our own way, according to our God-given talents, abilities, and personalities.
Our challenge is to respect and support one another, work with one another, acknowledge God's control in our lives and the lives of others, and allow God to mold us into the unique individuals we were created to be.
Be your unique self and allow others to do so as well.
(Photo courtesy of pixabay.)
(For more devotions, visit us at www.christiandevotions.us.)
---
---