But those things which proceed out of the mouth come forth from the heart; and they defile the man. Matthew 15:18 KJV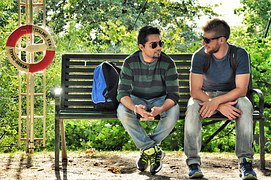 Words relate the condition of our heart and soul.
When I recommitted my life to God, I asked Him to change my heart. He made me conscious of words leaving my lips. Unlike many mistakes we can correct, spoken words cannot be unsaid. Words are powerful. In Genesis, God spoke and things immediately happened. Even Jesus is referred to as the Word: And the Word was made flesh, and dwelt among us, and we beheld his glory, the glory as of the only begotten of the father, full of grace and truth (John 1:14).
Jesus was rebuked by the scribes and Pharisees because His disciples broke tradition by not washing their hands before eating. Jesus responded to this charge with a parable and then explained that what goes into the mouth "is cast out in the draught." What comes out of the mouth comes from the heart.
When I am tempted to be sarcastic, unkind, or critical, Jesus convicts me. My words of unkind criticism and judgement condemn me if I open my mouth and let unguarded words fly. These words—my defense through life against those who wound me—are not condoned by my new master. God makes me sensitive to others' feelings. I feel the pain, bitterness, resentment, and loneliness of those who are thoughtless in their speech and actions. Instead of words, tears flow. I become aware of the pain I've caused the Lord. He suffered with me and for me—a discernment with life-changing results.
Words have the power to deceive or enlighten, injure or heal, criticize or encourage, separate or unify, condemn or forgive, destroy or create. Words have the power to change lives. Words of love, of praise, and of prayer are heart words—words of life.
Ask God to help you speak heart words that will be sensitive to the needs of others, reach the lost, and glorify Him.
(Photo courtesy of pixabay.)
(For more devotions, visit us at www.christiandevotions.us.)
---
---