"I have the right to do anything," you say - but not everything is beneficial. "I have the right to do anything" - but I will not be mastered by anything. 1 Corinthians 6:12 NIV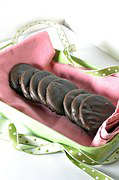 I looked down at the empty package and shook my head. Surely I had not polished off another box of those creamy Peanut Butter Patties.® But I had!
Those cookies, along with many others, have led me to many regrets since I was a Girl Scout. If only I would just follow the wisdom in Corinthians. Just because we have the right or ability to do something doesn't mean we should. Often, it's not beneficial. Most of us are able to eat as much sugar or drink as much wine as we want, but this can lead to problems such as weight gain, illness, drunkenness, and other troubles.
Discernment isn't only limited to our eating habits but can include such things as our jobs, careers, relationships, and hobbies. Just because we have the right to work sixty or more hours per week for a sizeable income doesn't mean it's beneficial to our life, health, or family. We also have the right to date and marry whomever we want, but that doesn't mean they're advantageous for us.
Sometimes the things we enjoy control our lives. Binge drinking to deal with stress, social anxieties, or other negative emotions can lead to alcoholism. A job that demands both time and energy may cause us to feel our only worth is found in position. We may begin to sacrifice time with family, time with God, exercise, and other things.
Make a list of things or habits that need eliminating from your life. Don't let things that aren't helpful control you.
(Photo courtesy of pixabay.)
(For more devotions, visit us at www.christiandevotions.us.)
---
---