To appoint unto them that mourn in Zion, to give unto them beauty for ashes, the oil of joy for mourning, the garment of praise for the spirit of heaviness; that they might be called trees of righteousness, the planting of the Lord, that he might be glorified. Isaiah 61:3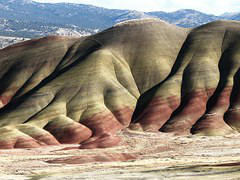 Out of the ashes of loss comes a beauty only an artist can conceive and create.
At the junction of two roads in a rural area of Iowa, a 12-foot, 56-ton rock sits. Dubbed the "Freedom Rock," it is covered with pictures of veterans, along with patriotic scenes of our nation's history, all painted by a local artist. Each spring, the artist gives the rock a fresh coat of paint, changing its face to proudly display new scenes for the many who stop by to view it. Included in the paint he uses are the ashes of deceased veterans, given to the artist by their families as a way to honor the memory of their loved ones. Before applying the paint to the rock, the artist mixes the ashes with the paint so that the two become inseparable.
God works in much the same way. He paints our lives with broad strokes—taking our ashes, our pain, our mourning, our joy—and interweaves them all into the masterpiece He's creating in such a way that beauty emerges. Just as the artist in Iowa took what was at one time an ordinary piece of stone and turned it into a monument to honor our nation's veterans, God uses normal people every day. Every experience, every emotion, and every moment of our lives is used by the Creator to mold us into the person He wants us to be so He might be glorified.
When others are able to see God at work in and through our life's circumstances, our ashes become something beautiful. With God's help, we—as well as others—can see past our circumstances and focus on the Creator Who makes all things new.
Let the canvas of your life reflect the hand of the One guiding the brush.
(Photo courtesy of pixabay.)
(For more devotions, visit us at www.christiandevotions.us.)
---
---