For God has not given us a spirit of fear, but of power and of love and of a sound mind. 2 Timothy 1:7 NKJV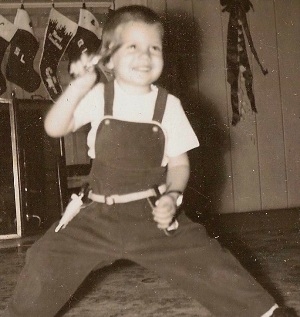 The big train wheels squealed and sparks flew as the engineer pulled hard on the bright red brake lever. Rolling and shuddering, the boiler hissed steam and the train shuddered to a stop. The Bad Men Outlaws (dressed all in black) boarded the train.
It was 1963 and the Tweetsie Railroad, a tourist attraction built around an authentic locomotive and three miles of track in the North Carolina mountains, was just six years old. So was I. The train was packed that summer day, and Mom, Dad, and I were the last to board. Mom was pregnant with my little brother, and she quickly found a seat for us, but there didn't seem to be room left on the car for my Dad. So as the train began to lurch its way out of the station, he settled down a few feet away on a lockbox at the end of the car.
I watched in wide-eyed wonder as the train meandered its way around the mountain. There was a lot to see along the way, including the scenery and the frontier fort. And then, out of the blue, came the sound of six-shooters ripping the air, horses galloping alongside the train, and the squeal of iron on iron as the train slowed and stopped.
The entrance to the passenger car was suddenly darkened by a man dressed all in black. He bounded up the steps and entered. He pulled his gun and before I was even aware of what was happening, I was up off the seat and moving. I kicked the outlaw as hard as I could and yelled at him, "Don't point that gun at my daddy!"
The staged play came apart at that point. The "outlaw" looked at me in bewilderment. Dad scooped me up protectively, and the passengers on the car broke out in laughter and cheers. After a minute or two, the actors recovered and went on with the show. The outlaws took the lockbox. Dad sat in my seat and held me close. The good guys (dressed helpfully in white) recovered the lockbox, and the train once again huffed and puffed along the track. Its whistle echoed off the mountains.
Jesus said we must be as little children. He probably didn't mean we should go around kicking people, but rather our motives should be as pure and innocent as that of little children. Just as little Kevin flew off the bench to protect his daddy, we should be just as zealous in our defense of our faith, and observant of all the things our Father has taught us.
Our Christian faith is under attack from all sides. The outlaws are boarding the train. Drink of the Father's promised Spirit of power and love, and go kick a few bad guys.
---
---