Then the Lord replied: "Write the revelation and make it plain on tablets so that the herald may run with it." Habakkuk 2:2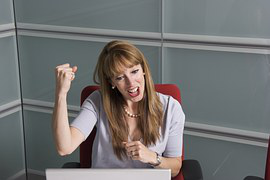 "You got the job!"
These are the words I had been praying for three years about a job I hoped to get. Before I got the position, I wrote the company's name on my vision wall and posted it in my kitchen so I could thank God every day. I'd sent resume after resume, and when it didn't look like I was going to get a phone call, I still thanked Him for the job. Two weeks ago, I received a call from a friend who works for this company. She referred me, and two days later I got the job.
Habakkuk encourages us to write our visions on paper. God wants us to have clear objectives. He wants us to pursue our goals with a clear vision and never lose track of what we're hoping for. The second part of the verse says "So that the herald may run with it"—meaning that whoever reads it won't forget.
Everytime I had a bad day or it looked like my goal was moving further away, I would say, "Lord I thank You for my job at this company." Doing this gave me hope and built my faith. This was my opportunity to strengthen my faith muscles and learn to trust God through my trials.
When it looks like the vision isn't coming to pass, fortify your faith muscles. Thank God every day for the vision, and watch how He teaches you while you wait. If it's in His will, the vision will materialize, and you too will have an amazing testimony to help someone.
Write down your vision and post it—along with this Scripture from Habakkuk—where you'll see it daily.
(Photo courtesy of pixabay.)
(For more devotions, visit us at www.christiandevotions.us.)
---
---