"But He said to me, 'My grace is sufficient for you, for my power is made perfect in weakness.' Therefore I will boast all the more gladly of my weaknesses so that the power of Christ may rest upon me." 2 Corinthians 12:9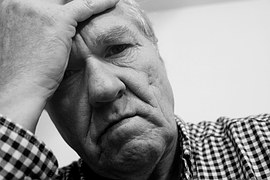 It was a beautiful spring day until I found myself meeting the concrete, hands splaying to break my fall, knees making harsh contact, and the mail in my hands scattering in all directions.
Once inside and seated with ice on my knees, I chastised myself for reading the mail while walking. Yet in that deep place inside of me, I knew it was more. This was my fourth fall in a matter of months.
I tried to still one of my hands and legs from their growing tendency to shake—a shaking that started with minuscule movements I attributed to stress. I had known people like that. You share a bench at your son's baseball game and want to grab their knee and say "Stop!" But that was never me, until now. I could no longer deny it, and the neurologist confirmed it. Parkinson's was the adversary.
Parkinson's is somewhat like a garden hose resting in concentric circles. Someone turns the spigot on until it reaches full pressure. The pressure builds until the hose wiggles, thrashes, and moves in eccentric patterns. With Parkinson's, the pressure intensifies until there's no option but to move. My determined arm and impulsive leg have their own stubborn will.
Yet God's strength is made perfect in my weakness. He keeps my eyes focused on the blessings and helps me choose joy over despair. A piano teacher once reminded me that a mistake during a performance doesn't ruin the beauty of the piece. I'm God's creation, so I must be a masterpiece—with or without this disease. Short of a miracle, I will have Parkinson's when I die, but it will not visit heaven with me. I will hold steady hands high in praise.
Whatever your journey, keep your eyes fixed on God—the ever present help in times of trouble. He will help you choose joy.
(Photo courtesy of pixabay.)
(For more devotions, visit us at www.christiandevotions.us.)
---
---